Virtual Villagers 5 New Belivers
Virtual Villagers 5 New Believers With Crack

. Game ini mengisahkan sebuah desa nah di mana kita harus membangun desa tersebut hingga makmur. Di dalam game ini terdapat banyak sekali hal-hal menarik yang bisa kita coba sehingga tidak membosakan.

Game ini sangat cocok buat pengguna NetBook yang dimana spesifikasi kurang memadai untuk memainkan game2 berat. Nah daripada sobat semua bengong, lebih baik main game ini aja.
Visit the center of the Island of Isola.

Masked heathens that need to be shown the light.

Mysterious heathen Totems to be dismantled.

Many God Powers to impress your villagers and the heathens!

New puzzles, new collectibles, new Island Events!

Dozens of achievements for players to accomplish.

Real-time weather! Clouds, fog, and sudden downpours

Real-time gameplay: new surprises every time you turn the game on!
Minimum System Requirement:
Windows 2000, ME, XP, VISTA, 7

DirectX 7.0 or later.

1024 x 768 or larger display

512MB of RAM (1GB for most VISTA version or Windows 7)

700 MHz Processor (1GHz for VISTA or Windows 7)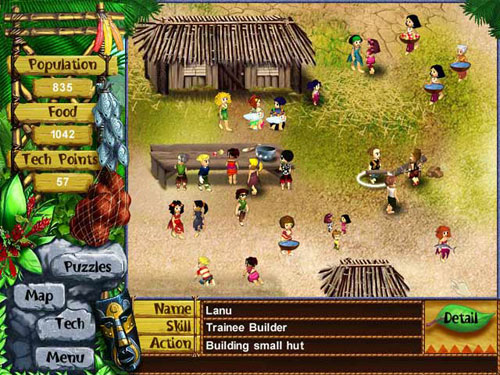 Download Virtual Villagers New Belivers
Download Virtual New Belivers ++ (Must Download)